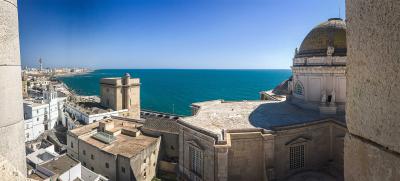 "A city of sharp incandescence lying curved on the bay like a scimitar and sparkling with African light, a scribble of white on a sheet of blue glass"
Laurie Lee, As I Walked Out One Midsummer Morning
Cádiz and its beautiful unspoilt coastline is one of Spain's best kept secrets. An ancient port and a friendly, vibrant city, it offers the ideal location for those who want to gain a qualification and discover the real Spain. Big enough to offer vibrant life and variety, small, friendly and laidback enough to immediately feel like home. Balance the intensity of the course with the uniquely relaxing atmosphere of Andalucía's hidden gem.